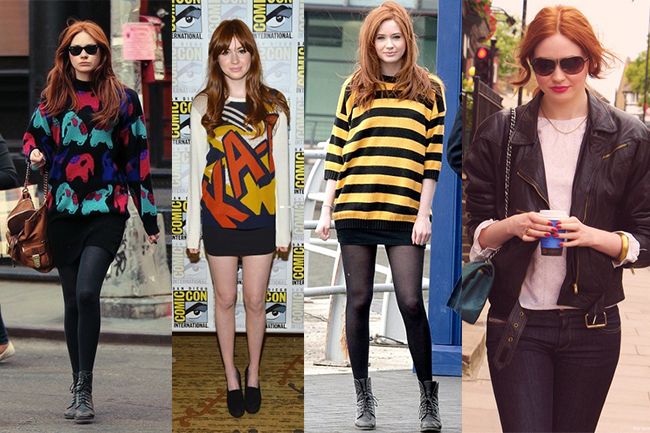 Ginger, big and green eyes, tall and so freaking beautiful. Scottish actress, Karen Gillan or best known as Amy Pond on the tv-series Doctor Who is one of my most recent favorite actresses and style icons.
You need to see or read her interviews. She is so funny, clever, somewhat clumsy and cheerful. Her outfits reflect her personality. She really inspires me to be more relaxed and happy person. I can make a big and huge post of all her candids and outfits. She has a lot seriously. For her, going to the supermarket is like walking on the runway.
Also, what do you recommend me for taking to Spain? I have no idea what to pack or what to leave.
xoxo
Avi
&&
Pelirroja, grandes ojos verdes, alta y sumamente hermosa. La actriz escocesa Karen Gillan o mejor conocida como Amy Pond en la serie de Doctor Who es unas de mis más recientes actrices favoritas e iconos de moda.
Necesitan leer o ver sus entrevistas. Es tan divertida, llena de alegría torpe y feliz. Sus atuendos reflejan su personalidad. Ha sido modelo para varias revistas importantes. Ella me inspira para ser más relajada y feliz. Podría hacer una entrada gigante de todos sus atuendos pero nunca acabaría. Tiene demasiados, deberían de buscarlos para inspiración. Ella es fantástica. Cuando va al supermercado es como irse a una pasarela. Karen Gillan siempre esta bien vestida.
Y mis queridos lectores, les pido un favor,

¿Q

ué me recomiendan para llevar a España en la maleta? No sé sinceramente que necesite.
xoxo
Avi
4 Comments »