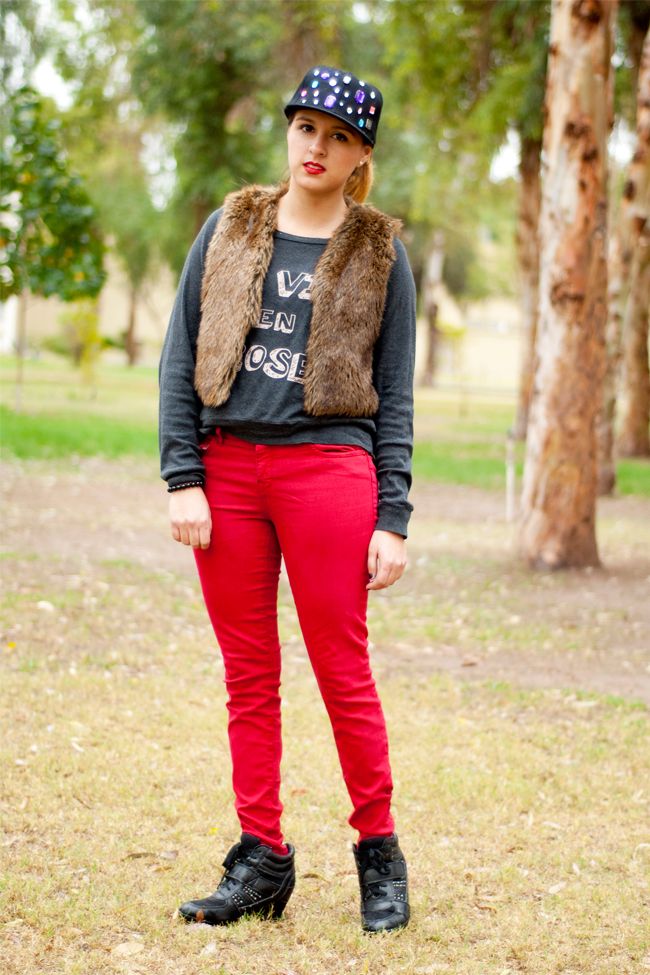 I was wearing:
Red Pants: Guess
Fur Vest
La Vie en Rose Sweater: Forever21
I'm more than excited. It's official. I'm leaving for Jerez de La Frontera, Spain this February 14th. My Visa got here last Friday without warning (thanks people from Spain for weeks of agony and nights of crying like La Llorona). I screamed really loud while holding it in my hands. However, even if I'm happy I'm also a bit sad. I'd leave this blog a bit abandoned while I adjust to my new life, and I'd have to search for a new photographer (Thank you very much to Elizabeth from On Photography for taking my pictures and having patience).
This is my last post of looks. From here to the 14th I'll be posting entries about fashion, tips and editorials. So look forward to it, please.
If you follow me on instagram (@ladyavi) you'll know I have bangs since yesterday. Many people had told me I don't look like myself, that I'm someone else, but that my hair also very modern and fresh. I love it. I feel like Lea Michele from Glee, we're both small and tanned.
Now, about the look: Like I promised here it is, my look with my DIY. Actually, I can't stop wearing it, I find it very practical and I've had a lot of praises. I decided to wear a sportier look without forgetting glamour. I've been using my wedge sneakers from GoJane.
Thank you everybody for the good wishes.
Xoxo
Avi
&&
Estoy más que emocionada. Ya es oficial. Este 14 de Febrero me voy a Jerez De La Fronter
a, España. El viernes me llegó mi visado y sin avisar (gracias españoles por semanas de agonía y noches de llorar como La llorona). Grité como loca cuando lo vi en mis manos. A pesar de toda la felicidad, estoy algo triste. Dejaría un poco abandonado el blog en lo que me ajusto a mi nueva vida, además de buscar un nuevo fotógrafo (Muchas gracias a Elizabeth de On Photography por tomarme fotos y tenerme paciencia como modelo).
Este es mi último post de looks. De aquí al 14 estaré publicando entradas respecto a moda, tips y editoriales. Así que estén atentos, por favor.
Si me siguen por Instagram (@ladyavi) sabrán que me hice bangs (fleco) ayer. Muchos me dicen que no parezco yo, que soy otra persona pero que es muy moderno y fresco. A mí me encanta. No es por nada pero siento que me parezco a Lea Michele de Glee. Somos igual de chaparras y morenas.
Ahora si a lo importante: El look. Como les prometí aquí está mi look con mi DIY. La verdad no puedo dejar de usarla, se me hace tan práctica y he recibido muchos elogios. Decidí usar un look más deportivo pero sin olvidar el glamour. Ando usando mis sneakers con cuña de GoJane.
Muchas gracias a todos por mandarme su buena vibra.
Avi
9 Comments »